Thu 20 Feb 2014
This is the second installment of a round-up in which I've asked fiction writers how they go about constructing collections of their stories. Part One appeared on February 13 and contained personal descriptions of the process from: xTx, Robert Vaughan, Amber Sparks, Ethel Rohan, Kristine Ong Muslim, Sean Lovelace, and Cynthia Litz.
Read on!
***
Kim Henderson, author of The Kind of Girl, Winner of the Seventh Annual Rose Metal
Press Short Short Chapbook Contest
As I created my chapbook, The Kind of Girl, I learned that making a chapbook is not so different from writing, revising, and polishing a single story. It takes time and patience, micro-thinking and macro-thinking, and knowing when to shut down your brain and simply listen to the rhythm of the work. Unfortunately, the saying "Kill all your darlings" holds true for creating a chapbook, too (although at least those pieces left out can be published individually).
Creating a chapbook requires careful attention to structure and arc. For The Kind of Girl, the structure and arc finally worked when I let the material lead the way, when I stopped trying to control the chapbook and started listening to it. It eventually became clear that I had a set of stories pondering the ways girls and women find themselves defined —by circumstance and environment, by others, by their own hand. Once I figured that out, I built the chapbook in three sections loosely following the thematic arc (from girls who have very little choice in how they are defined to women who define themselves), which also coincided for the most part with age, development, and environment.
The most important lesson I learned when creating a chapbook is the lesson I always seem to learn—to trust the material and my unconscious to find the way, and to do my best to be patient.
Kyle Hemmings, author of Zin! and Séance
I'm no expert in this subject as this question kept running through my mind both during and after my completed chapbooks. And I can't speak for everyone. Many of my chapbooks are full of hybrid work, not just flash fiction. I like to think of order as a building up of tension and intensity, maybe starting with some medium tension to get the reader's interest, building steady, with a drop here and there to let the reader catch his or her breath. For me, personally I like to add a piece here and there to give different perspectives of a character or situation or a thematic variation. Then, I try to put my most intense piece(s) towards the end, kind of similar to the climax in a novel. It's not an art I have mastered, but that's how I like to think of it.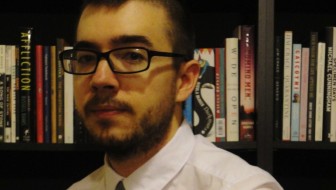 Casey Hannan, author of Mother Ghost
My story collection, Mother Ghost, is short. Every story in there is short. The book itself is physically short. Squat. What a hateful little word. Well, I'll tell you something I tried to do with the book, and who knows if it meant squat to anyone but me, but I tried to turn the book into one long story. Not a novel, no. But even down to the title. Those two words connect all the stories. Some string of misery ties them. So I pulled on that chain. A gay boy comes out of the closet. He moves. He loves. He loses. He loves more. He dies. That's the order, which is not to say you should order a collection of stories like a human life, but more to say I did, and at least one reader recognized that's what I did. He said I was a devil for it.

Beverlyn Elliott, author of How Blue Can You Get?
When I first began to look at the flash fiction and shorts I'd written over the years, I thought it was a hodgepodge of stories that were too dissimilar in theme to group into a cohesive collection. I decided at one point to just continue to send the stories out for publication in e-zines and literary magazines. However, my job became much more demanding and I didn't have the time I'd once had to devote to submissions. I just barely had time to write. This made me sad to the point that I was really blue about the whole thing. That's when it struck me that while these stories were diverse, the thread that made them work together was the fact that they all had the blues, or their situations could be characterized as the blues.
Then I remembered the old B.B. King song "How Blue Can You Get?" which was mentioned in one of the stories, and I decided my collection would embody the blues. My decision to arrange the stories the way they are in the book had more to do with the size and subject matter than anything. I wanted to vary the placement of the stories by length, and the stories with more intense subject matter for later in the book. So, that is how the stories in my collection were arranged, the manner in which they were published.
Peter Cherches, author of Lift Your Right Arm
The question of organization is paramount to my writing as much of my work consists of sequences of related short prose pieces (some call them flash fiction, some call them prose poems). Each sequence tends to have 25-30 individual pieces, kind of chapbook length themselves. In fact, the first of these I did, "Bagatelles," was published originally as a chapbook in 1981 and is now in my collection Lift Your Right Arm, which consists of five sequences written over a 32-year period. For this book I faced the problem not only of organization within each section, but of the organization of those five sequences into a coherent collection.
How to order one's pieces for a chapbook is both a challenge and an opportunity. The opportunity is to conceive of the chapbook as something greater than the sum of the parts, and that's where sequencing is of utmost importance. It's all about the ebb and flow, and it's worth considerable attention.
Every writer will find her own solution, a sequence that presents the individual pieces in the best light as well as makes the reader feel that the whole collection adds up to something beyond a vessel for a bunch of unrelated pieces. The best analogies for what I do come from music. Think of your chapbook as a suite. The individual pieces can stand alone, but how do they best resonate with each other?
Of course you want to start with something really strong that will draw the reader in, make him want more, and you want to end with something that will keep your work in the reader's mind. Think of your first piece as a kind of overture; choose something that perhaps represents a number of themes, concerns, or stylistic devices that appear throughout the book. Then think of how you can sequence the other pieces so that one can almost feel the inevitability of the implicit transitions. I mentioned ebb and flow above. Think of varying the tone of adjacent pieces in a way that will provide variety but won't feel like jarring juxtapositions. Perhaps some pieces that are thematically related but stylistically different, or vice versa, will work well together. Think of the kind of "narrative arc" you want the whole collection to have, then try out various combinations. Don't minimize the importance of shuffling pieces with purpose, then re-reading your work in each potential sequence until you hit your eureka moment. It's great to have readers choose favorite pieces, but ultimately you want the reader to have been gripped by the whole collection, to have a respect for the whole range of the work. I think a good closing piece would be one of the strongest, but also the most open-ended, i.e. something that will spark questions that will keep the reader thinking about your chapbook…and looking forward to your next one.
Daniel Chacón, author of Hotel Juarez: Stories, Rooms and Loops, Unending Rooms, and the shadows took him: A Novel
When I put together a collection of short fiction, I like to think of it as a structure, a building or a complex with many units in which people can enter. One of the most rewarding things about reading a novel is the act of entering into it. In fact, you could even say that the aesthetic phenomenon when it comes to a novel is that point wherein you forget you're reading, and you are completely inside the world that you are co-creating, as a reader, with the author. You feel like you're there.
When I put together my latest book of flash fiction (Hotel Juarez, Stories, Rooms and Loops) I ordered the stories in such a way that the experience would be like entering into a hotel. You walk into the entrance and there should be lots of light, a place people would want to linger for a while, stay for a few days. But the hotel that I envision is a little bit dark, somewhat scary, and as you go down the hallways, you can hear noises coming from the rooms, and you know beyond each door (each title), in every room there's a story going on, some of them quite dark.
In my previous book of short stories, most of them flash fiction (Unending Rooms), I imagined the book was a house, one of those old white houses you used to walk by on your way to school. It has at least two stories, and probably an attic, with a round window with a cross hair frame. You don't know who lives there, except sometimes you see an old lady sitting near a window, and you think the house is haunted. It scares you, but it also captures your imagination and you want to enter into it. Again, the first story should have lots of light, invite you into the house, but it gets darker and more creepy the further you enter into it.
A collection of stories is, like a novel, an entire experience. The "rooms" are not arbitrarily ordered. They create the entire experience of the book. Although you can enter any structure or complex from the side or the back or through a window, they are built, i.e. ordered in such a way that the experience gets deeper and deeper, and you get to know the place more and more the further you go inside, the further you enter into it. Flash fiction stories as a collection should be the same experience as a novel, in that sense. The deeper you go into it, the more understanding you have about the structure, i.e. the book itself.
Rusty Barnes, author of I Am Not Ariel, Mostly Redneck, and Breaking it Down
Ordering my book of flashes, Breaking it Down, was actually easy. I expected it to be a bit of a hard sell, so I included some of the longest stories at the beginning and at the end to give the lull of familiarity, and tried in the middle to keep a variety of styles, in as much as I write varieties of stories, which I really don't. My idea was to start strong and end strong and, uh, to keep a strong middle. The book may be confused by all of my back-thinking about order, but too late for that now.
If I were to do it again, I would start strong and then let the pencil shavings fly where they were needed. At the same time I think it's always a good idea to vary length of stories throughout a manuscript. I did also try to keep the stories with graphic sex separated, since there were more than a few. The book is still selling [a few copies here and there], so something clicked. I just wish I know what it was.
***
I don't know about you, but this makes me feel hopeful about the prospect of collecting more of my work. It might even be fun to try out these different methods.
We'd love to hear from you, too, about any ingenious ways you know of to show collected works of fiction in their best possible light.
___________
Bonnie ZoBell's new connected collection with Press 53 is on pre-order here—What Happened Here, where it will then go on regular sale. Her fiction chapbook, The Whack-Job Girls, was published by Monkey Puzzle Press in March 2013. She's received an NEA fellowship, the Capricorn Novel Award, and others and is currently working on a novel. Visit her at www.bonniezobell.com.